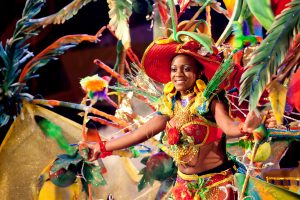 Grenada is the original spice island and still very rural outside the capital St George's. Our friendly locals love to chat, and old-fashioned courtesy is still observed, so always say "hello" to anyone you meet when walking. Village and church culture is still very strong, but Grenadians also know how to party and celebrate, especially at Carnival in August.
The interior is rain forest at the highest points, with old estates below the forest producing cinnamon, nutmeg, mace, cocoa etc. It is simply beautiful, with vibrant flower colours and many shades of green.
Temperatures rarely stray above 30C degrees during the day and drop to around 20C degrees at night all year round. In "rainy season" (July – Nov) it can be humid, although our trade wind sea breezes control this.  Rainy season showers, which are often at night, are short and sharp and very localised. At Two Bays you can see the rain coming from the sea, so you know whether  you will be enjoying a sweet, cooling shower.
Cabier is about halfway up the east-side of the island close to most of the places to visit on a half day trip, including cocoa plantations, small chocolate factories, nutmeg stations, rum distilleries – including one with the working waterwheel dating from 1796 – where their strongest rum is prohibited on aircraft!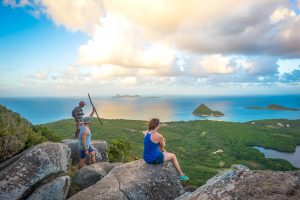 For those who wish to be active you can hike in the high rainforest along marked nature trails (guides available) enjoying the colourful flowers, wildlife, and a swim in natural pools with waterfalls. There are bird watching and eco-tours where you may also see the troupes of monkeys that inhabit the forest, as well as walks from Cabier along the coast. Mountain bike hire is available, as are island tours. There are also kayak trips and river tubing (in season) that can be booked.
Grenada had a chequered ownership in its early days, which can be traced by visiting the forts around St George's and the museums in its stunning harbour area. Firmly British since 1796 up to independence, its police force is still called "The Royal Grenada Police". Have a lazy long lunch and wander around the harbour looking at the variety of boats moored there.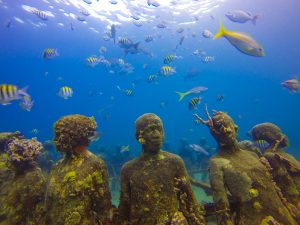 Take a boat trip to snorkel or picnic on Sandy or Hog Islands, and enjoy sunset cruises that can be organised for you by Cabier. The diving around St George's area is excellent with many dive sites, clear water, reefs and wrecks. There are trips from St George's for large game fishing in season.
Grenville, our local town by the sea, is 20 minutes away. It has a vibrant market to explore, with locally grown produce and spices to buy, local restaurants to try, or just wander around to soak up the local atmosphere.
You may be tempted to do a little inter-island visiting using the hydrofoil or local air service for a day trip to the neighbouring Grenadine island of Carriacou.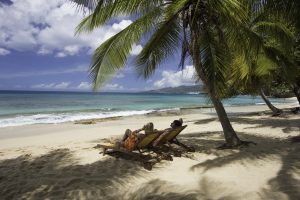 There is always the option of "Limin" as our locals call it – which is essentially just doing nothing very slowly: lazing in your swing seat on your veranda or in the infinity pool with a book or having a massage on the veranda. You can often see pelicans, frigate birds, egrets, herons and the occasional osprey fishing, as well as humming birds, doves and butterflies in the garden without stirring from your seat.
As dusk creeps in watch the fire flies in the bushes light up like flying Xmas tree lights and, as night falls, gaze up at the canopy of thousands of stars and the Milky Way appearing overhead. When there are more stars than fireflies it's time for dinner.
Liming for a day or two – or more – is not a bad option. It is what the Caribbean, Two Bays and Cabier are all about.